Details

Wednesday, 06 November 2013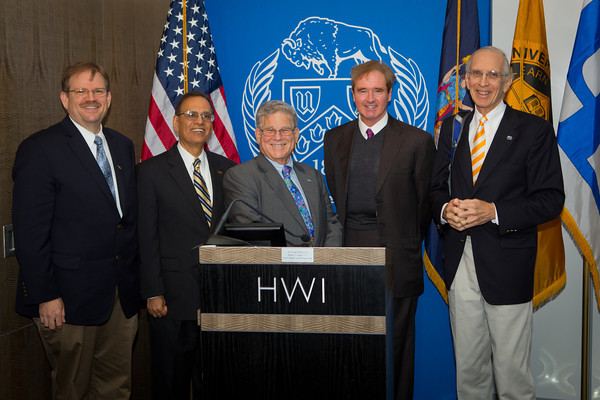 The BioXFEL Center will focus on developing new X-ray bioimaging techniques — including an advanced form of X-ray crystallography called serial femtosecond crystallography — to analyze a vast array of new molecular targets for drug discovery.
By John DellaContrada and Ellen Goldbaum


From Left, Alexander N. Cartwright, UB VP for Research and Economic Development; Satish K. Tripathi, UB President; Eaton E. Lattman, HWI Executive Director & CEO; Congressman Brian Higgins; Dr. Richard A. Aubrecht, Vice Chairman at HWI and VP for Strategy and Technology at Moog Inc.
Photographer: Douglas Levere
BUFFALO, N.Y. — A national consortium of eight research universities and institutes, has been awarded a prestigious $25-million Science and Technology Center grant from the National Science Foundation to transform the field of structural biology, including drug development, using X-ray lasers. The BioXFEL Center will focus on developing new X-ray bioimaging techniques — including an advanced form of X-ray crystallography called serial femtosecond crystallography — to analyze a vast array of new molecular targets for drug discovery.

This technique has the potential to spur much-needed innovation in the pharmaceutical field. It will provide scientists with new insights into how biological molecules function, what might be happening when disease occurs and what compounds might be designed as drugs to modify this activity.

Eaton E. Lattman, PhD, professor in the UB Department of Structural Biology in the School of Medicine and Biomedical Sciences and chief executive officer of the Hauptman-Woodward Medical Research Institute (HWI), will be director of the BioXFEL center.

John C.H. Spence, PhD, Regents' Professor of Physics at Arizona State University, will serve as the center's scientific director. The University of Wisconsin-Milwaukee also will have a primary role in the center, led by principal investigator Abbas Ourmazd, PhD, Distinguished Professor of Physics and Electrical Engineering.

Besides University at Buffalo, Arizona State University and University of Wisconsin-Milwaukee, other partner institutions funded by NSF are Cornell University, Rice University, the University of California at San Francisco and Stanford University. The University of California at Davis, also supported by NSF, will help with creating and managing the educational program. Other partners include the Lawrence Livermore National Laboratory, Berkeley National Laboratory and the Centre for Free-Electron Laser Science (CFEL) in Hamburg, Germany. While current techniques in crystallography provide almost 90 percent of what scientists know about biomolecular structure, fewer than 20 percent of purified proteins currently form the crystals necessary for this technique.

"With the new bioimaging technique developed in the BioXFEL center, we will be able to analyze crystals 1,000 times smaller than the ones we can use now," Lattman said. "These are crystals we could never use before and, in fact, may not have known existed. A whole new universe of drug targets will become accessible for study as a result."

"In addition," added Spence, "we will be developing new techniques for making movies of molecular machines at work, and of viruses and biomolecules in their natural wet environment undergoing chemical change. Some of the work, with Professor Petra Fromme at ASU, will try to image the detailed atomic processes responsible for photosynthesis. This occurs when sunlight falls on all green plants, allowing them to split water, creating the oxygen we breathe and converting the carbon dioxide responsible for global warming into carbohydrates."

"The techniques the BioXFEL center will develop could shorten the process of determining protein structure from years to days," said Ourmazd of the University of Wisconsin-Milwaukee.

"This will rely heavily on mathematical algorithms we and others are developing to deduce structure from millions of ultralow-signal snapshots."

The new technique enables the study of ultra-small crystals — nanocrystals, Lattman explained, which grow much more readily than the much larger ones required by current methodology.

"Many other aspects of the project, such as the patterns created by the X-ray laser, are different from what we are used to," he said. "We have to figure out how to work with them, both experimentally and theoretically."

He noted that the new technique offers tantalizing possibilities in the future. "Maybe down the road, we won't even use crystals at all, but we're a long way away from that," he said.

Scientists involved with the BioXFEL center will use an extremely powerful new kind of X-ray beam developed at SLAC National Laboratory at Stanford University called an X-ray, free-electron laser (XFEL). The use of the XFEL to analyze protein crystals was chosen by the journal Science as one of the top 10 science breakthroughs of 2012. That work included a number of scientists who will be participants in the BioXFEL center.

"Because this technique is so new, much remains to be done before it can be used routinely," explained Lattman. "The process needs to be streamlined. Right now, every single step takes a heroic effort. The purpose of the new BioXFEL center is to create the resources and knowledge necessary so that five years from now, scientists can apply XFEL routinely to the most pressing biomedical questions."

A key advantage is that it will let scientists see the motions of molecules for the first time. "Most biological processes require movements within the molecules involved," Lattman said, "but the pictures provided by current X-ray analysis contain very limited information about them.

Together, UB, Arizona State and UWM will offer education programs to try to develop young scholars in this technique at the graduate and postdoctoral level, as well as the undergraduate and high school levels. Lattman said UB will be one of the key facilities in the U.S. with this focus.

The center will emphasize applications of its research through its industrial partners in the Industrial Macromolecular Crystallography Association comprised of major pharmaceutical companies, including Bristol-Myers Squibb, Pfizer, Abbott, Merck and Novartis.

The BioXFEL center's headquarters will be located at 700 Ellicott St. on the Buffalo Niagara Medical Campus in the building that houses both HWI and UB's Department of Structural Biology.

The NSF Science and Technology Centers: Integrative Partnerships program supports innovative, potentially transformative research and education projects that require large-scale, long-term awards. The centers foster cutting-edge research, education of the next generations of scientists and broad distribution of the knowledge and technology produced.